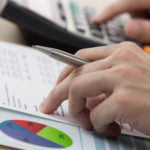 Jim Lorenzen, CFP®, AIF®
Many years ago a prospective client told me his investment returns had averaged 25% per year over the past ten years.  This was back in the '90s when the markets were going strong and everyone (it seems) was watching 'talking heads' give their ratings of mutual funds on the various tv business channels.
He was sure he was earning 25% per year because his $100,000 had grown to $250,000, a 250% increase he said.  And, as everyone knows, 250% divided by 10 years is 25% per year.
I didn't bother asking him if he'd also been adding deposits to his account during that ten year period, in which case dollar-weighted returns would be different from time-weighted returns.  But, even without additions, his real return was more like 9.6% – not bad (remember, it was a bull market), but a far cry from 25%.
But, that 9.6% was his compound return – and that's different from his average return.
If you'd like to learn more about deciphering investment returns, you may enjoy this special report.  You can access it by clicking the button below.