Jim Lorenzen, CFP®, AIF®
Getting ready to retire?  Planning to roll your 401(k) into your own IRA?  It will pay to do your homework first.
To help you get started, you might find our 401(k) Rollover Review helpful.  It contains information on changing jobs, retiring, methods, rollover taxation issues, and more.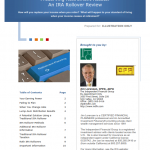 Click Here for your 401(k) Rollover Review!