Markets always do; but strategies in the future will have to be different.
Maybe. You might think so. 
While the S&P was down 10.5% year-to-date as of Friday, it's still UP 1.1% for the last 12 months while foreign stocks actually lost 13.1%.  Who'd a thunk it?   And, the real surprise is the NASDAQ index of small stocks, down only 3.3% for the year and actually UP 9.3% for the last 12 months as of Friday's close[i].  The 10-year Treasury has gained 17.9% as the yield plummeted to just 0.65%[ii].
The core consumer price index (CPI) is holding at 2.1%[iii]; but, as we see huge stimulus spending driving up the debt, the inevitable result may be too much money chasing too few goods and services, thus driving up inflation – an argument to get the economy moving again in order to drive up production while increasing the job numbers and sources of revenue.  Debt as a percentage of the GDP will be the key figure to watch.
A key worry is a debt spiral. Treasury secretary Mnuchin is already trying to fund the growing budget deficit – the $2.2 trillion stimulus package is the largest ever passed.   John Briggs, head of strategy for the Americas at Natwest Markets, thinks the sheer amount of debt coming is really a war-time sort of funding.
The government has been selling short-term debt (Treasury bills that mature in one year or less) virtually as fast as possible – and more is coming.
The fiscal 2020 deficit – a deficit that needs to be funded somehow – will be four times as large as last year's $3.8 trillion – almost 19% of GDP, according to the Committee for a Responsible Federal Budget, a non-partisan group.  Few on 'the hill' see a need for caution right now, given the threat of the virus, but there is little doubt corrective action will be on the horizon.
Economists at JPMorgan Chase & Company say GDP will shrink an annualized 40% in the second quarter, according to a feature in Bloomberg News.   That, of course, means a huge amount of debt is coming in the second quarter. 
Having a solid formal financial plan with the right allocation is now more important than ever.  The markets will come back, but because of the CARES Act and the SECURE Act – and added market volatility – the strategies that used to work are now changing.
Jim
[i] Source: MacroBond Financial AB. S&P 500 is represented by the S&P 500 Index, DJIA is represented by the Dow Jones Industrial Average, NASDAQ is represented by the NASDAQ Composite Index, Foreign Stocks are represented by the MSCI EAFE Index and Emerging Markets are represented by the MSCI Emerging Markets Index. Sectors based on S&P 500 Index sector indexes. You cannot purchase an index.

[ii] Source: MacroBond Financial AB, Morningstar Inc., Bloomberg LP. 10-Yr Treasury is represented by the MacroBond 10-Year Treasury Bond Index.

[iii] Source: MacroBond Financial AB, Federal Reserve (Fed Funds Rate), US Department of Labor (Inflation and Unemployment) and US Bureau of Economic Analysis (GDP).
——-
Interested in becoming an IFG client?  Why play phone tag?  Schedule your 15-minute introductory phone call!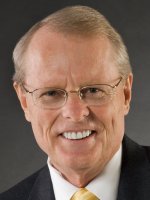 Jim Lorenzen is a CERTIFIED FINANCIAL PLANNER® professional and An Accredited Investment Fiduciary® in his 21st year of private practice as Founding Principal of The Independent Financial Group, a fee-only registered investment advisor with clients located in New York, Florida, and California. He is also licensed for insurance as an independent agent under California license 0C00742.  IFG helps specializes in crafting wealth design strategies around life goals by using a proven planning process coupled with a cost-conscious objective and non-conflicted risk management philosophy.
Opinions expressed are those of the author.  The Independent Financial Group does not provide legal or tax advice and nothing contained herein should be construed as securities or investment advice, nor an opinion regarding the appropriateness of any investment to the individual reader. The general information provided should not be acted upon without obtaining specific legal, tax, and investment advice from an appropriate licensed professional.