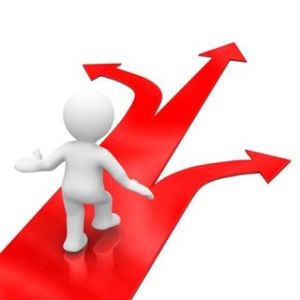 Retirement planning and college funding are, for many parents, hopelessly connected.
The reason is simple:  Whatever is spent on college usually comes at the expense of a secure retirement.
Today, tuition, fees, room and board at a public four-year institution can total $31,700 for a single school year and around $41,000 at private schools – and we're not talking about the top-tier 'brand names'.  Multiply that by a minimum of four years and the number of children a parent wants educated, and it's a chunk of bucks.
Parents and students want to purchase the best education possible; and, of course, the colleges are marketing their product, competing for the right students.
But, costs are rising dramatically.  A Fidelity study of recent graduates found that 70% are carrying personal debt averaging more than $35,000.  I'm not sure who Fidelity was talking to; but many advisors report seeing students graduating with $60,000 to $80,000 in debt.
There appears to be a disconnect.  The financial aid system isn't designed to support the top-tier university system; it's more designed for community college level funding.
Advisors have long known that comprehensive wealth management planning includes the typical components  of college savings, investing, insurance, taxes, and estate gifting.  Much of the planning for college, however, has traditionally centered on saving FOR college – not saving ON the cost of college.
For most, 529 plans are inadequately funded; and many parents are surprised to find that the subsidized Stafford loan program provides for a maximum of just $3,500!  They may also qualify for a maximum of $2,000 in unsubsidized Stafford loans – and they may also find some help from the states; but, it still seems to many like small drops in a large bucket.
Saving ON the cost of college requires a strategy.  But, to formulate one, it's best to have a roadmap.  For most, it requires more than simply adding up loans and scholarships.
Failure to optimize a funding strategy can be expensive.  Think about it:  When it comes to funding a college education, a  $10,000 mistake doesn't happen just once; it happens every year!   Over four years – and many take four to six years due to transfers resulting from choosing the wrong school in the first place – that $10,000 mistake can become a $40,000 mistake… for a single child!   Two kids?  Three kids?  The math is simple.
Because these mistakes can prove so costly, and potentially destroy many parent's plans for retirement – an issue near and dear to our hearts – I've decided to allocate some resources to making a dedicated college funding service offering available to IFG clients, which fits with my philosophy of providing clients with custom-tailored solutions utilizing independent and objective service providers.
A little news: IFG has partnered with Collegiate Funding Solutions, which can provide clients with a dedicated Client Care Center, to help efficiently guide clients through the entire process.  As you can probably guess, my work centers on the financial strategies side, and you can learn more about how we can help clients on the IFG College Funding website.  There, you can:
Download a free and informative report, "Insider Strategies and Secrets to Reducing Your College Costs"
See a short video, "A Lesson in Paying for College".
Learn how much scholarship money your student qualifies for;
Subscribe to the CFS award-winning e-newsletter,College Ed Xpress, and stay informed about important college planning, funding, and admissions information,
See college-specific projected four-year costs – for virtually any college your student(s) wish to attend
Arrange to receive a quick diagnosis of your specific situation – a valuable and important step to getting it right.
There's even a college planning primer on the planning and financial aid landscape.
If you have a high school student wondering about navigating the maze, even as you're wondering how you can make it happen financially without jeopardizing your retirement or amassing a huge debt, there's little time to waste.
Enjoy the site!  I hope you find the information helpful.
Jim
ADDITIONAL RESOURCES:
College Planning and Funding Strategies –  Just like with the airlines, there are often two prices people pay for the same education:  The price paid by the informed and the price paid by the uninformed.   What are the projected four-year costs for the college your student desires?  How much scholarship money will your student qualify for?  You can see a short video, "A Lesson in Paying for College", and download a free report, "Insider Strategies and Secrets to Reducing your College Costs."  You can learn more on the IFG College Funding site.
Retirement Income Planning– The wrong Social Security claiming strategy could conceivably cost hundreds of thousands of dollars and have a dramatic impact on your other retirement assets!   Knowledge is more than power; it's real money.  You can learn how to get to the right strategy with the right planning.
Arrange a brief 15-minute introductory phone call with Jim Lorenzen, CFP®, AIF® here.
Financial Planning and Investing:
IFG Report:  Understanding Mutual Funds
IFG Report: The Hidden Risk No One Talks About  (Registration required)
Begin the discussion with your spouse with this Financial Converstion Checklist.  (No registration required)
Facing financial decisions but feel you need to do some homework first?  You might benefit from looking through our free Life Guides and using some financial worksheets!
Visit theIFG Website!
Follow Jim on Twitter: @jimlorenzen and also Jim's MoneyBlog
Jim on LinkedIn
IFG on Facebook
Become an IFG client!  Schedule your 15-minute introductory phone call here!
———————
Jim Lorenzen is a CERTIFIED FINANCIAL PLANNER® professional and An Accredited Investment Fiduciary® in his 21st year of private practice.
The Independent Financial Group is a fee-only registered investment advisor with clients located across the U.S.  He is also licensed for insurance as an independent agent under California license 0C00742. Jim can be reached at 805.265.5416 or (from outside California) at 800.257.6659.
Interested in becoming an IFG client?  Why play phone-tag?  You can easily schedule your 15-minute introductory phone call!
The Independent Financial Group does not provide legal or tax advice and nothing contained herein should be construed as securities or investment advice, nor an opinion regarding the appropriateness of any investment to the individual reader. The general information provided should not be acted upon without obtaining specific legal, tax, and investment advice from an appropriate licensed professional.