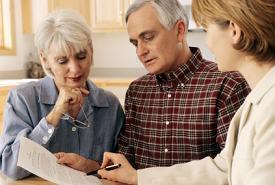 Last weekend I was going through my email in-box and found a company offering to supply me with a proven system for attracting new clients by selling an IMMEDIATE NEED, rather than a future one.
The immediate need target market is supposedly parents of high-school (college bound) kids who are seeking college aid!
It looked enticing.  Every advisor would like to have new clients, particularly those who have a problem that a qualified advisor might be able to solve!  Maybe I'll look into this.
I went downstairs to turn-on the ball game and began flipping through the pages of one of the industry trade publications.  There, in the back with all the other vendor display ads, was an ad from the same company, touting how much money the founder had made selling college aid solutions to a hungry market!
I've been in this business over 22 years; and there are two things I've learned:
The amount of hype attached to a financial solution is virtually always inversely proportional to its value.
It's no coincidence that the higher the commission, the more likely it is the product should be avoided.    Indeed, those high commissions, it seems, are a necessary incentive to for less educated salespeople to sell something that couldn't be sold otherwise, which is why the hype (see #1) is necessary.   Those reps and agents often possess impressive-sounding credentials that are recognized by no industry authority and usually even unregistered.
If you're considering financial aid, you may want to visit – and read in its entirety – this piece from CNN Money.
Note:  I've had some problems with this link; you may want to try pasting this in your browser and try it there:
https://money.cnn.com/2013/01/01/pf/college/college-aid.moneymag/index.html?iid=EL
It could save you a lot of grief.
Jim
RESOURCES:
IFG Report:  The Hidden Risk No One Talks About (registration required)
A Financial Conversation Checklist (does not require registration)
Subscribe to IFG's Ezine:  IFG Insights   https://tinyurl.com/IFGInsights
Follow Jim on Twitter: https://twitter.com/JimLorenzen
Jim on LinkedIn   https://www.linkedin.com/in/jimlorenzencfp
IFG on Face book
Jim Lorenzen is a CERTIFIED FINANCIAL PLANNER® professional and An Accredited Investment Fiduciary® in his 21st year of private practice as Founding Principal of The Independent Financial Group, a fee-only registered investment advisor with clients located in New York, Florida, and California. He is also licensed for insurance as an independent agent under California license 0C00742. IFG helps specializes in crafting wealth design strategies around life goals by using a proven planning process coupled with a cost-conscious objective and non-conflicted risk management philosophy.
The Independent Financial Group does not provide legal or tax advice and nothing contained herein should be construed as securities or investment advice, nor an opinion regarding the appropriateness of any investment to the individual reader. The general information provided should not be acted upon without obtaining specific legal, tax, and investment advice from an appropriate licensed professional.