Business valuation is something that most business owners don't think about until they decide it's time to sell.
Big mistake.
Business valuation can be a powerful planning tool!
How willl this capital expenditure impact the value of my business?
If my partner(s) pass away, how can I buy-out the partner(s) spouse(s) interest – they may know little about the business!
If I want to leave the business to one of my children, how will I value that child's inheritance to be fair to other children who may not want the business – and how will everything get funded?
You get the idea.  Your imagination can come up with a lot of reasons for knowing how much a business is worth and how future decisions/events may impact it's value.
Here's another one:  You're key employee dies, or just leaves the business.  When key employees are no longer on the scene, it's an event that can impact supplier relationships (and terms), as well as banking relationships (and terms), not to mentions client or customer relationships.
But, valuations are expensive.
Are they?  Formal appraisals for sales or mergers and acquisitions can seem expensive; but, informal valuations for planning purposes can be valuable, widely accepted, and far less expensive.
A blog post can't cover all they types of business valuations; but, it can help in determining which of the move most-accepted methods may be right for you!
Maybe this little chart will help: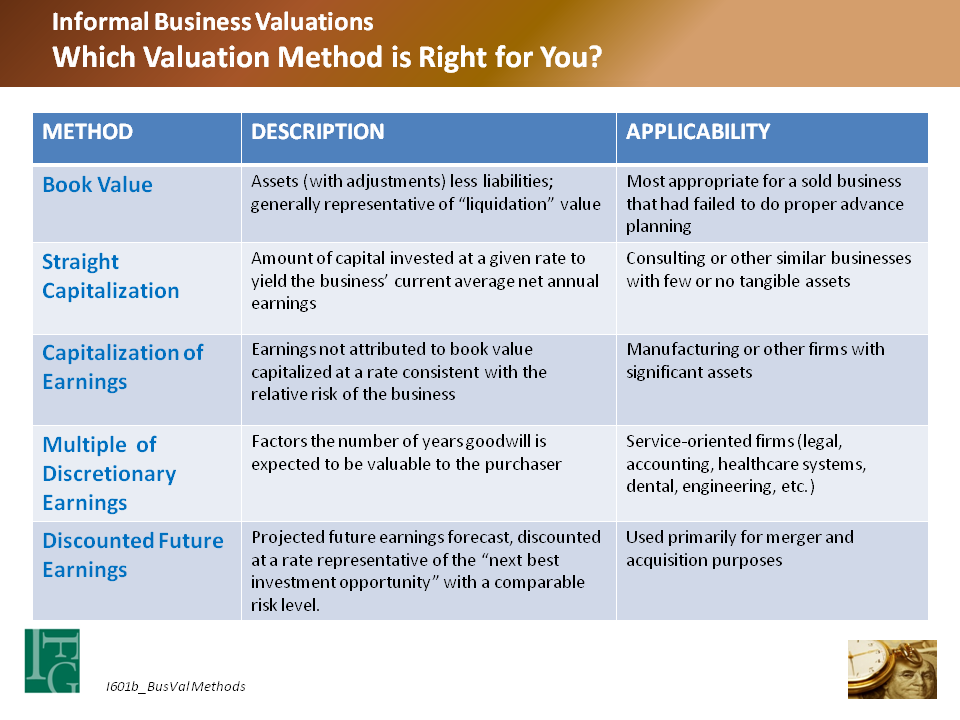 If you'd like to see a sample business valuation report, just click on the button below:
Click Here to get your Sample Business Valuation Report
For more on business valuations, see our Business Valuation Report.
Hope this helps!
Jim
———–
Jim Lorenzen is a CERTIFIED FINANCIAL PLANNER® professional and an Accredited Investment Fiduciary® serving private clients' wealth management needs since 1991.   Jim is Founding Principal of The Independent Financial Group, a Registered Investment Advisor providing wealth management, retirement planning and investment advisory services.  He is also licensed for insurance as an independent agent under California license 0C00742.  Jim's background includes founding, building, and selling five successful businesses and international consulting.  He has been the headline speaker at more than 500 national and international association and corporate conventions for clients such as Foster Grant, Hobie Cat, CapCities/ABC, H.R. Textron, Hearst Corporation, The National Management Association, the National Newspaper Association, and Cox Communications, as well as scores of state, regional, and national conventions.  Jim has also been heard on American Airlines' Sky Radio on more than 19,000 flights and has been published in the Journal of Compensation and Benefits.
The Independent Financial Group does not provide legal or tax advice and nothing contained herein should be construed as securities or investment advice, nor an opinion regarding the appropriateness of any investment to the individual reader. The general information provided should not be acted upon without obtaining specific legal, tax, and investment advice from an appropriately licensed professional.  All images used in this communication are in  public domain unless otherwise noted.