Ever hear about the 4% Rule?  It's about safe withdrawal rates for retirement income.  If you've been following my pontifications over the years, you probably recognize this; but, if the rule is unfamiliar to you, here's a brief description.
The 4% rule was the result of some back-testing and research by a financial advisor named William Bengen.  The objective was to identify a 'safe' withdrawal rate for retirement income that would answer the question, "How much can I safely withdraw from my portfolio without having to worry about running out of money?"
His results were published in 1994 and identified 4% as the withdrawal rate that would provide an 80% success probability over a 30-year period, regardless of market conditions.
Of course, it's a probability based on back-testing.  The problem investors face is that inflation, which has been historically low for some time now, could rear it's ugly head and impact withdrawals significantly.  So, we're still dealing in probabilities.
Let's look at a hypothetical example: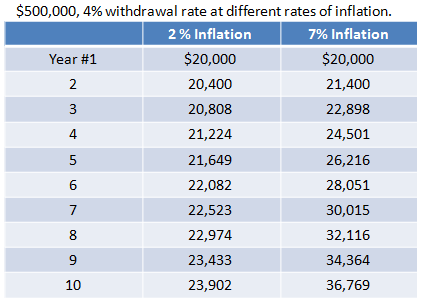 The ending annual expenses using a 7% inflation rate is 53.8% higher than if inflation remains at 2% for the entire decade.  Is 7% an unreasonable figure?  If you're old enough be be concerned about outliving your money – or your income – you know it's very reasonable.  Remember the double-digit inflation of the late 1970s?
What does that do to our probabilities discussion?  GIGO.
Planning is as much about what we don't know as what we know.  It's about testing and stress-testing our assumptions.
For many, the real question is not whether money will last – it doesn't do much good to have some money if that money won't produce the income you need to maintain your desired lifestyle – it's whether you will have the inflation-adjusted income you will need.
Key question:  Are you comfortable dealing with probabilities or guarantees?  The strategy that's right for you will be different depending on your answer.
We know that many retirement expenses are guaranteed; but, how of the income required to meet those expenses is also guaranteed?  If having a guaranteed income floor is important to you, we have an educational video you might enjoy viewing.
If you wo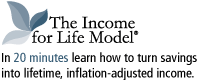 uld like to see it, grab a cup of coffee – it's about 20-minutes long – and you'll learn about a process for arranging assets that may be eye-opening,  you can do so by clicking here.
Your Roadmap?
This educational video depicts an eye-opening strategy.  The specific financial tools used to implement this strategy will be different for each individual, depending on specific needs and desires; but, it is a strategy that could put retirement on 'auto-pilot'.  Keep in mind, this is but one strategy for addressing retirement income needs.  There are others.  The one that's right for you would depend on your plan
The plan comes first.  We don't do "ready-fire-aim".
If you would like help, of course, we can always visit by phone.
Enjoy!
Jim
---
Jim Lorenzen is a CERTIFIED FINANCIAL PLANNER® professional and An Accredited Investment Fiduciary® serving private clients since 1991.   Jim is Founding Principal of The Independent Financial Group, a  registered investment advisor with clients located across the U.S.. He is also licensed for insurance as an independent agent under California license 0C00742. The Independent Financial Group does not provide legal or tax advice and nothing contained herein should be construed as securities or investment advice, nor an opinion regarding the appropriateness of any investment to the individual reader. The general information provided should not be acted upon without obtaining specific legal, tax, and investment advice from an appropriate licensed professional.