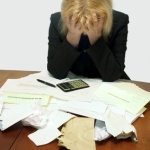 Does it make sense to invest in down markets?   Some people simply quit investing and avoid the market altogether.  This may be the wrong decision!  Here's a little exercise might provide a clue as to why most investment experts advise consistent investing.
In our example, the price of our fictitious investment begins and $50 and goes down.  In fact, it takes 10 years just to get back to it's initial price.  Did systematic investing seem worthwhile?  You be the judge.
Systematic Investing During Difficult Times

Market

Year

Price

$ Amt

# Shares

$ Amt

# Shares

Cum # Sh

1

$50

$20,000

400.000

$2,000

40.000

40.000

-20%

2

$40

0

$2,000

50.000

90.000

20%

3

$48

0

$2,000

41.667

131.667

-25%

4

$36

0

$2,000

55.556

187.222

20%

5

$43

0

$2,000

46.296

233.519

-30%

6

$30

0

$2,000

66.138

299.656

20%

7

$36

0

$2,000

55.115

354.771

20%

8

$44

0

$2,000

45.929

400.700

-10%

9

$39

0

$2,000

51.032

451.732

28%

10

$50

0

$2,000

39.869

491.600

Totals

$20,000

400

$20,000

491.600

Portfolio Value

$20,066

$24,661

Average Cost per Share

$50

$40.68

Value Per Share

$50

$50

Profit Per Share

$0.16

$9.48

Portfolio Profit

$66

$4,660.91
Point:  Our 'systematic' investor averaged a compounded 4.57% per year in a 'flat' market while the person who made a one-time purchase was virtually at a zero return ($66 over 10 years on a $20,000 investment).     
If you're young, down markets just might be good!  Markets have always gone down; but, I've never seen one STAY down.  In fact, new highs have historically been unvoidable!  So, you may want to make the most of the 'downs' when you can.
Unfortunately, for many, retirement planning will often fail.  You may be interested to learn why in this free report.
You also may be interested in receiving my e-zine, IFG Insights, that addresses retirement issues.
Jim
RESOURCES:
IFG Report:  The Hidden Risk No One Talks About (registration required)
A Financial Conversation Checklist (does not require registration)
Subscribe to IFG's Ezine:  IFG Insights   https://tinyurl.com/IFGInsights
Follow Jim on Twitter: https://twitter.com/JimLorenzen
Jim on LinkedIn   https://www.linkedin.com/in/jimlorenzencfp
IFG on Face book
This example is presented as an illustration for educational purposes only and does not represent any investment or index.  No conclusions about the future of any investment or index should be drawn from this example.  Jim Lorenzen is a CERTIFIED FINANCIAL PLANNER™ and in his 22nd year of private practice as Founding Principal of The Independent Financial Group, a fee-only registered investment advisor with clients located in New York, Florida, and California.  Nothing contained in this material is intended to constitute legal, tax, securities, or investment advice, nor an opinion regarding the appropriateness of any investment to the individual reader.  The general information provided should not be acted upon without obtaining specific legal, tax, and investment advice from an appropriate licensed professional.  Nothing contained herein is an offer or recommendation to purchase any security or the services of any person or organization.