Oops. Now what? No more protection? What happened to all those premium payments? How could you have protected yourself?
You've been paying on an insurance policy for years.  Now, you've learned your insurance company – the one that top ratings from all the major ratings services –  just went bust – what do you do?  What could you have done to protect yourself?
There's no counter for withdrawals and no ATM – and there's no FDIC insurance.  So, how are you protected?
The insurance industry is regulated state-by-state.   Each state maintains its independence and operates its own system of regulation, and each is also a member of the National Association of Insurance Commissioners (NAIC), which helps provide uniformity.
It's important to understand that an insurer may be based in one state, operate in multiple states, and still be domiciled in another.  The domicile state is the lead state under normal circumstances for any regulatory actions.
While insurance companies don't have any guaranties at the federal level, they do have state-backed insurance guaranty associations.  According to Gavin Magor, Senior Financial Analyst for Weiss Ratings and oversees their ratings process, the states have established these associations to help pay claims to policyholders of failed insurance companies. However, there are several cautions which you must be aware of with respect to this coverage:
Most of the guaranty associations do not set aside funds in advance. Rather, states require contributions from other insurance companies after an insolvency occurs.
    2.There can be an unacceptably long delay before claims are paid.
Each state has different levels and types of coverage, often governed by legislation. They're unique to that state and can sometimes conflict with coverage of other states. Moreover, most state guaranty funds will not cover title, surety, credit, mortgage guarantee, or ocean marine insurance.
Bottom line: If an insurer fails, it may be awhile for you to get your claim processed and get your money to fix your home or pay bills. But just how often do insurers fail?
Since Weiss started rating insurance companies in 1989, 633 rated insurers failed. As you can see from the graph below, a majority of them were rated "D" or "E" by Weiss at the time of failure.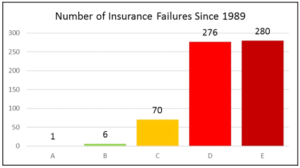 The bottom line is that you can still get your claims paid even after your insurer fails, but it might take a while. So, we recommend you check an insurer's Weiss safety rating before you start doing business with them. With only a 0.02% chance of an insurer rated "A" or "B" failing in any one year, you can see why we favor those over insurers rated "D" or "E". In addition to our ratings, be sure to learn more about your insurer's state guaranty funds.
Never heard of Weiss?  I believe it.  Virtually all insurers love to tout the other better-known companies; however, there's a problem:  Most, virtually all, of those touted rating services get paid by the insurers they rate!  Weiss' revenue is derived from those companies that subscribe to their reporting –  it's a business model similar to Consumer Reports which doesn't accept advertising.  It should be no surprise that fewer companies receive Weiss' top ratings.  It should also be no surprise that there are some 'top rated' companies that won't allow Weiss to come through their doors.
I've encountered some insurance agents – I've even met some insurer's representatives – who look at you with a blank stare when you ask about their Weiss rating.  Maybe it's because some big household names didn't make the cut.
Worth knowing?
Jim
---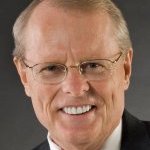 Jim Lorenzen is a CERTIFIED FINANCIAL PLANNER® professional and an ACCREDITED INVESTMENT FIDUCIARY® serving private clients since 1991.   Jim is Founding Principal of The Independent Financial Group, a  registered investment advisor with clients located across the U.S.. He is also licensed for insurance as an independent agent under California license 0C00742. The Independent Financial Group does not provide legal or tax advice and nothing contained herein should be construed as securities or investment advice, nor an opinion regarding the appropriateness of any investment to the individual reader. The general information provided should not be acted upon without obtaining specific legal, tax, and investment advice from an appropriate licensed professional.