Here are some tips that might help!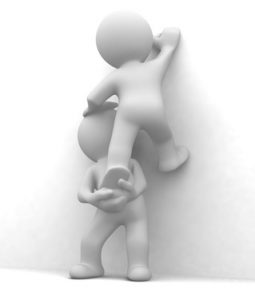 Jim Lorenzen, CFP®, AIF®
For most people, there are certain times when events can feel overwhelming.  For most of us, when it's a money event (retirement plan rollover, selling property, winning the lottery, etc.) it's usually when we think, 'What do I do now?  I don't want to screw this up!"
Here are some tips, along with a LifeGuide, that might help:
Take your time. This is an emotional time…not the best time to be making important financial decisions. Short of meeting any required tax or legal deadlines, don't make hasty decisions concerning your inheritance.
Identify a team of reputable, trusted advisors (attorney, accountant, financial/insurance advisors). There are complicated tax laws and requirements related to certain inherited assets. Without accurate, reliable advice, you may find an unnecessarily large chunk of your inheritance going to pay taxes.
Park the money. Deposit any inherited money or investments in a bank or brokerage account until you're in a position to make definitive decisions on what you want to do with your inheritance.
Understand the tax consequences of inherited assets. If your inheritance is from a spouse, there may be no estate or inheritance taxes due. Otherwise, your inheritance may be subject to federal estate tax or state inheritance tax. Income taxes are also a consideration.          
Treat inherited retirement assets with care. The tax treatment of inherited retirement assets is a complex subject. Make sure the retirement plan administrator does not send you a check for the retirement plan proceeds until you have made a distribution decision. Get sound professional financial and tax advice before taking any money from an inherited retirement plan…otherwise you may find yourself liable for paying income taxes on the entire value of the retirement account.
If you received an interest in a trust, familiarize yourself with the trust document and the terms under which you receive distributions from the trust, as well as with the trustee and trust administration fees.
Take stock. Create a financial inventory of your assets and your debts. Start with a clean slate and reassess your financial needs, objectives and goals.
Develop a financial plan. No one would begin building a home (ordering out materials and beginning construction) without a well thought out plan, blueprints, and a budget; so, why build your financial future without one?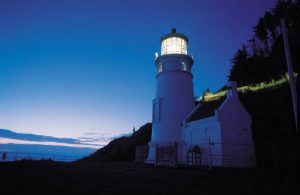 Consider working with a financial advisor (preferably a CERTIFIED FINANCIAL PLANNER® (CFP®) professional to "test drive" various scenarios and determine how your funds should be invested to accomplish your financial goals.  Interest rates, markets, inflation, and taxes can all change.  But, your plan, if tested, is like the lighthouse in the storm – if you're plan has been stress-tested, it's the one thing that won't move when everything else seems to be in turmoil.
Evaluate your insurance needs. If you inherited valuable personal property, you will probably need to increase your property and casualty coverage or purchase new coverage. If your inheritance is substantial, consider increasing your liability insurance to protect against lawsuits. Finally, evaluate whether your life insurance needs have changed as a result of your inheritance.
Review your estate plan. Your inheritance, together with your experience in managing it, may lead you to make changes in your estate plan. Your experience in receiving an inheritance may prompt you to want to do a better job of how your estate is structured and administered for the benefit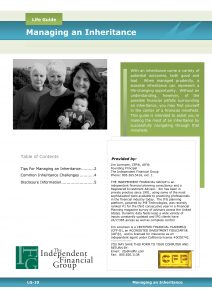 of your heirs.
Don't forget your LifeGuide!
Hope this helps,
Jim
---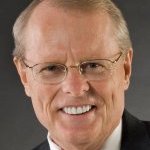 Jim Lorenzen is a CERTIFIED FINANCIAL PLANNER® professional and an ACCREDITED INVESTMENT FIDUCIARY® serving private clients since 1991.   Jim is Founding Principal of The Independent Financial Group, a  registered investment advisor with clients located across the U.S.. He is also licensed for insurance as an independent agent under California license 0C00742. The Independent Financial Group does not provide legal or tax advice and nothing contained herein should be construed as securities or investment advice, nor an opinion regarding the appropriateness of any investment to the individual reader. The general information provided should not be acted upon without obtaining specific legal, tax, and investment advice from an appropriate licensed professional.