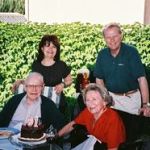 No?  You're not alone.
Very few families ever sit down together and talk over important issues.   Too bad; it's important.   It should be considered an integral component in "the business of living".
According to an excellent article in the current issue of the Journal of Financial Planning, there are four key areas every family should discuss:
Legal issues:  Who has the durable power?  Who will be executor for the wills?  Do they have trusts?
Health care:  What happens if mom and dad get sick?  Who takes care of them?  Where are they going to live and how are they going to pay for their care?
Financial:  Are the parents financially secure?  Will they need help from the children?  It's a tough conversation to have, but children need to know this stuff in advance.
Legacy:  More than who gets what; it's about what you want your children and grandchildren to remember about you.
Ideally, the meeting should have a good facilitator.  Your financial advisor, if s/he's been at the center of your financial planning – which should be the case – might be the perfect person.  The facilitator doesn't control or direct; but, can provide an objective and worthwhile service.  In addition, you may want to include your family attorney in the meeting to address legal issues and  provide valuable input.  And, one of the adult children should be the note-taker to follow up on who is to do what and by when.
One meeting isn't a magic pill, and it won't correct all past problems; but it's a start.  After all, it's about helping parents when they'll need it most.
Jim
————–
Jim Lorenzen is a CERTIFIED FINANCIAL PLANNER® professional and An Accredited Investment Fiduciary® serving private clients since 1991.   Jim is Founding Principal of The Independent Financial Group, a fee-only registered investment advisor with clients located across the U.S.. He is also licensed for insurance as an independent agent under California license 0C00742. The Independent Financial Group does not provide legal or tax advice and nothing contained herein should be construed as securities or investment advice, nor an opinion regarding the appropriateness of any investment to the individual reader. The general information provided should not be acted upon without obtaining specific legal, tax, and investment advice from an appropriate licensed professional.