Jim Lorenzen, CFP®, AIF®
Do you know what your biggest retirement risks are?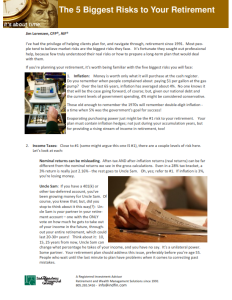 Many might think, after watching all the coverage about Greece, computer glitches on Wall Street, and stories about hackers, that it might be the financial markets; but, the fact is there have been all kinds of melt-downs over the years and some people's plans were unaffected!
Those people, of course, tended to be the ones that had plans that anticipated the 5 Biggest Risks!
You can download this report here.
Enjoy!
Jim