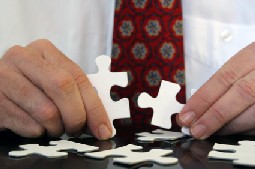 Here's a quick checklist, courtesy of Kathleen McBride, Editor-in-Chief of Wealth Channel, AdvisorOne.
You may want to sit down with your estate-planning attorney and review it together.
Check your will and create a `revocable trust' to avoid probate.  Assets pass easily, much like under a will, but you can avoid the probate process.   Make sure your will is placed inside the trust.
When you meet with your attorney, remember to set-up a review schedule.  Current tax law never stays current.
Assets should be titled in the name of the revocable trust – that includes your home, car, investment accounts, and other property.  Ask your attorney whether IRAs should be included since there are other factors to consider.
Make sure both the trust document and will reference the new tax law.
You might want to make sure one or more people have a general power of attorney.  If you get into a car accident, someone has to write checks.
Make sure you have a health care directive.
Discuss a limited power of appointment (LPA) with your attorney so that somebody who benefits from the trust can decide where it goes when they no longer need the income.
This is just a `heads-up' checklist to discuss with your estate planning attorney.  I am not an attorney and I didn't even stay in a Holiday Inn Express.  I did watch Perry Mason when I was a kid, but I'm not sure that counts. 
Jim
—————-
RESOURCES:
IFG Report:  The Hidden Risk No One Talks About (registration required)
A Financial Conversation Checklist (does not require registration)
Subscribe to IFG's Ezine:  IFG Insights
Follow Jim on Twitter: @jimlorenzen
Jim on LinkedIn
IFG on Facebook
———————
Jim Lorenzen is a CERTIFIED FINANCIAL PLANNER® professional and An Accredited Investment Fiduciary® in his 21st year of private practice as Founding Principal of The Independent Financial Group, a fee-only registered investment advisor with clients located in New York, Florida, and California. He is also licensed for insurance as an independent agent under California license 0C00742. IFG helps specializes in crafting wealth design strategies around life goals by using a proven planning process coupled with a cost-conscious objective and non-conflicted risk management philosophy.
The Independent Financial Group does not provide legal or tax advice and nothing contained herein should be construed as securities or investment advice, nor an opinion regarding the appropriateness of any investment to the individual reader. The general information provided should not be acted upon without obtaining specific legal, tax, and investment advice from an appropriate licensed professional.